SoftERP (Complete Software Solution)
| | |
| --- | --- |
| A Complete Solution | SoftERP is a new generation multi-functional solutions for comprehensive retail business for Point of Sales (POS) which helps in overcoming so many challenges. SoftERP includes Purchase, Inventory, Sales & Accounts modules; it helps to optimize the business intelligence for retailers who want to compete and thrive in the current challenging environment. This software is designed with very easy, intuitive and user friendly GUI. We regularly are in process to add new features & functionalities and provide upgrades for our products to our Point of sale users. |
Retail industry is growing at fastest rate with increased number of challenges faced by retail. It has become increasingly difficult to adapt to changing business scenarios for retailers who are always looking for new ways to increase profitability. Frauds, including Supplier frauds, thefts, shoplifting and inaccuracy in supervision and administration are the challenges that are difficult to handle. Although the challenges of retail are unique, they can be addressed with the right technology that identifies the problems and offers a holistic solution.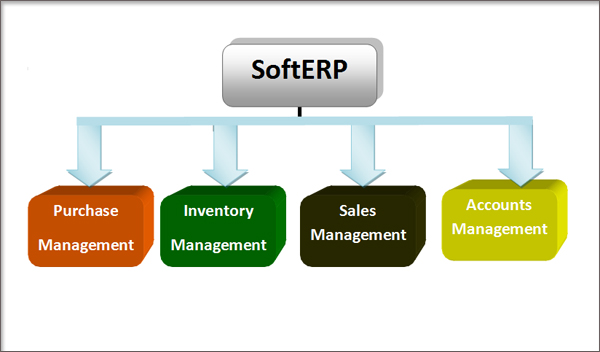 Highlights

Item Master Form
Item Master Form


Goods Received Voucher
GRV (Goods Received Voucher)


Cash Sale
Cash Sale


Bank Voucher
Bank Voucher


Our Technologies

User-definable Optional Fields in product Masters; user can define attributes of own items/products.
Form/GUIs are designed to be user-friendly and intuitive so users can add and update information quickly.
Flexible Financial Year; Beginning and Ending Date.
best integration of Accounts module with Purchas & Sales modules which is very easy to handle & maintain.
Flexible Item master form for creation of item based on client's requirement.
Flexible and comprehensive inventory classification to suit POS business needs.
Accurate recording of all inventory transactions lead to better inventory management and increases service levels by preventing lost sales opportunities to retailers.
100% audit of all operations. Audit log helps in investigating operational issues including security lapse and helps you take necessary steps to prevent them in future.
Purchase Order (PO) generation.
Support for multi location stores (Godowns) with all different types of multi retail store formats know as supply chain management.
Purchase and Sale tracking.
Auto and Manual Voucher No. System
Take print of outstanding balance at anytime on just a click of button.
It is highly robust and secure to prevent pilferage and fraud.
Comparative sales histories.
Wide range of reports with more emphasis & filter options which helps management in keeping track of the whole business.
Voucher entry while viewing reports.
Cash and Credit sale facility.
Wide range of reports with more emphasis & filter options which helps.
Invoice and Challan generation in well format.
Cash and Credit sale facility.
Sale Return facility.
Highly informative accounts register.
Easy to use Bank Reconciliation features
Flexible Ledger maintenance.
Robust and Low Maintenance
Keep track of daily, monthly and annual accounts.
Be organized and ready for easy auditing.
Keep track of performance data about the business.
Keeping track of all type of expenses and receipts.
Easy and flexible to operate.
Quotation/Estimate generation for Customer.
Manage your own Access Security.
Backup & Restore facility of database.